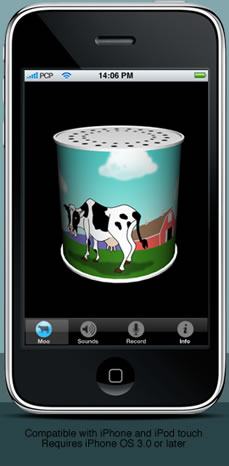 iMoo
iMoo is a simple and fun application that lets the user enjoy the classic "Moo-in-a-can" toy. Just turn the iPod/iPhone upside down and then right-side up to hear one of the nine distinct moo sounds from which you can choose from. You can also select the randomize feature to hear random moo sounds. 
For those who have an iPhone or an iPod Touch (second generation), you can even record your own moo sounds with our built in record feature and then play them back as your very own custom moo sounds. 
So get some iMoo in you and enjoy the pastures!

About the Panda
Panda Cub Productions exists
solely to provide you with diversions and amusements. Like the adorable Panda Cub, for whom we are named, who delights audiences the world over with his every belch and wiggle, each unconscious twitch and blink sending the crowd into hysterics or choruses of "oooh!" and "aaaaah!", yes, like the majestic "cat-bear" of China we aim to cause similar reactions in you, the
public.
And if we do not get them, we will
chew a bamboo leaf sullenly.
Pandablog
Our day-to-day activities at Panda Cub Productions are often amusingly detailed in our blog.
See posts from the creators and code authors as they squabble about features and correct each others' spelling. Find out what we're up to.
Support
We may goof around quite a bit, but we take at least one part of our job seriously - your satisfaction.
There are a variety of ways to contact us for customer support, including email, the Forum for bug fixes and technical issues, and leaning your head out a good sized window and screaming at the top of your lungs.
Forum
Want to shoot your mouth off? Need to get something off your chest? Well, go somewhere else, we don't need that kind of attitude.
But we do maintain a Forum with an extensive list of topics, so please visit that for information, fun, complaints, bug fixes, workarounds, wish lists, and bribes.